Newspaper articles highlight Dan Coulter's life-long passion for restoring vintage jukeboxes

Article by Andrew Wig
March 21, 2013

Article by Greg Glasgow
July 20, 2000

Article by Dan England
April 4, 2003
Interacting with history: Newport store repairs vintage machines
By Danielle Killey on Jan 20, 2016 at 10:00 a.m.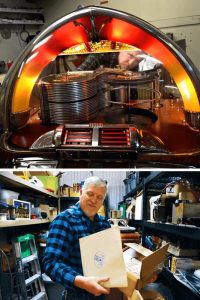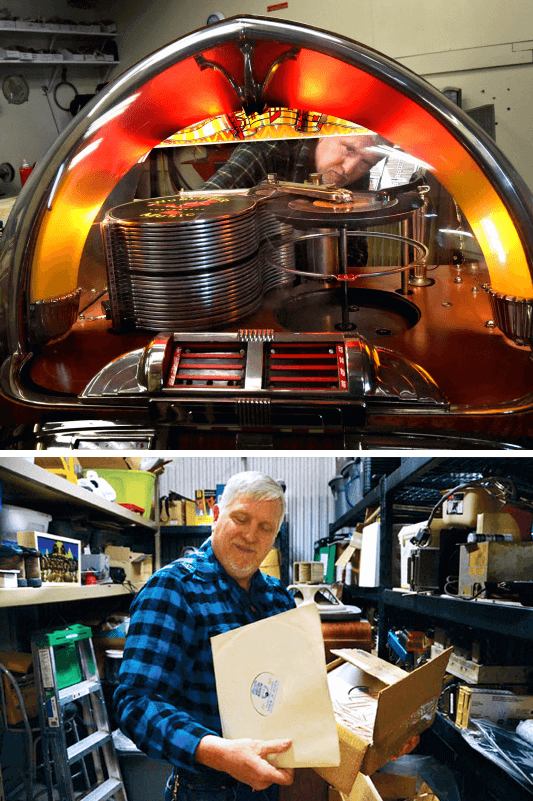 Vintage Gameroom L.L.C. owner Dan Coulter poses in his Newport store. (Bulletin photos by Danielle Killey)
When Dan Coulter was 12 years old, he bought and repaired his first jukebox.
"My parents kind of gave me carte blanche on the basement after that," he said. "We had the best game room in town."Coulter has been fixing electronics for about 41 years, he said, and recently found a home for his work in Newport. He owns Interactive Amusements at 745 High St.
Interactive Amusements repairs, restores and sells vintage stereos, jukeboxes, arcade and video games and other electronics.
"Pretty much anything that takes a coin, we work on," Coulter said.
Coulter, who grew up in Bloomington, came back to Minnesota about six years ago after living in Colorado for about 20 years.
Coulter opened his Newport storefront and workshop in February, and last week had a ribbon-cutting as he celebrated joining the Cottage Grove Area Chamber of Commerce.
The storefront offers a showroom for Coulter to sell and showcase his work, something he hasn't had in the past. He said the spot has been great, and he gets plenty of people checking out his store while shopping nearby.
"We have had a nice draw from the Newport Center," Coulter said.
Coulter said they will travel to people's homes to fix equipment as well, since it often can't be moved.
Interactive Amusements can fix a faulty system and restore it to its former glory, but Coulter and electronics technician Kim Lindstrom also can customize equipment to customers' needs. That could mean anything from matching the system's colors to their home to taking a 1950s jukebox and adding Bluetooth and phone connectivity, Coulter said.
"So we're a unique shop that way," he said.
Coulter and Lindstrom are proud of their work, have pages of positive reviews and try to offer honest and quality service, Coulter said.
Coulter has had a variety of jobs, from running an arcade to working in construction, but he said he has always come back to working on those vintage jukeboxes, pinball machines and games.
"It's just been a lifelong passion," he said.