Services – Out Calls Service & Repairs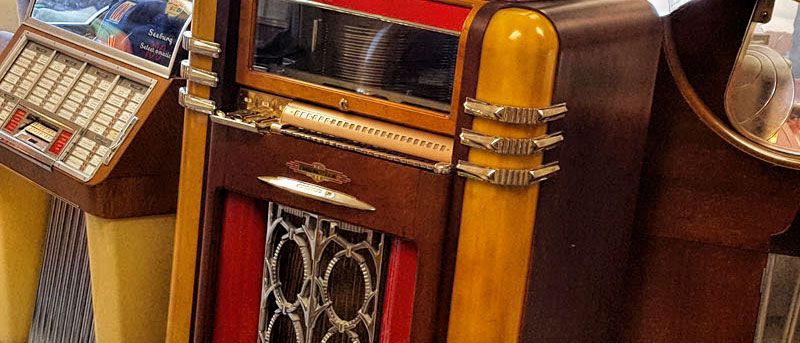 Vintage Gameroom Repairs (Jukebox) "Out Calls."
I do Jukebox repairs only
We understand that "out-calls are convenient for many reasons.
However, they ARE NOT INEXPENSIVE!
I could stay in my shop and have enough work without leaving – Out- calls are offered only – because I understand machines are often located in basements, and are heavy to move!
COST: $250.00 minimum within the first hour and $125.00 for each additional hour.
Or equivalent $31.25 each fifteen minutes
Figuring for (NON-RUSH HOUR TRAFFIC). If you want to schedule across town during rush hour or (construction zone) additional fees may apply –
Out-calls must be within 45 minutes from shop.
If you decide to not complete repairs you will still be charged the $250.00 MIN.
My time and material's may exceed the value of your machine.
PLEASE NOTE: It's impossible for me to speculate on repair solutions for every machine, I literally have worked on thousands of machines and no two repairs are exactly the same.  Secondly, to have a particular replacement  part  is also tricky, Some are reproduced most are not. I have had situations where it took months to find a 50 year old replacement part that was in good enough condition so it (WORKED).
In short it is not a reasonable expectation that I have all the parts and tools necessary to complete every type of on-site repair.  This is why I restrict travel services to local calls only. Sometimes it is necessary to make more than one trip to complete a project.  When you call to make an appointment (Please know what machine you have make and model) The equipment type and model information can usually be found on a tag on the back of the machine.
Lastly;
I'm ONE GUY trying my best to keep up the demand of hundreds of clients – please be patient with me, I'm doing my very best to help everyone all at the same time!  I really do CARE VERY MUCH! I'm sorry for if there is a tardy response to a phone call – please try again, I WANT TO WORK WITH YOU!
THE DAY OF SERVICE CALL;
** note        PLEASE MAKE SURE YOU HAVE ALL THE KEYS. IF YOU DO NOT HAVE KEYS (let me know) AT THE TIME YOU SCHEDULE THE SERVICE CALL!
An adult MUST BE HOME the ENTIRE time I'm at the location! If you leave, I will leave!
I'm (at risk) for covid 19 – I have to make a living so, I have to be out working. Please respect reasonable social boundaries when I'm in your home working on your equipment.
Please remove all clutter from around and under the machine, pull unit out from wall and put down a rug or old hand towel –
Equipment must be in a dry area free of clutter and in a heated space at least 65°
PLEASE PROVIDE: WORKING, electrical outlet or powered extension cord and general room lighting.
I'm an animal lover however, I'm there to service equipment not keep pets happy.  I love animals and they seem to love me too…I'd like to meet them when I come but after our greetings – Please keep them out of my work area.
(Please note that Service Calls are weather permitting, if I am unable to make your appointment due to terrible weather or driving conditions, (you will be rescheduled at the top of the list.)
My elderly father may need my attention – I will drop "EVERYTHING" to meet his needs.​