Products – New Video Games

Prices are for cash and check fees may apply for credit card +tax
 32" Monitor MULTI-CADE
(handy) Externally mounted Volume control.
Cabinet size 33-1/8 Wide   x   62-3/8 Tall   x 32" Deep
Thousands of Classic Arcade Games Games
Large 32″ Monitor  – LED Backlit Marquee – Professionally built cabinet – Heavy Duty Joystick and buttons.
JUST $2,195.00
]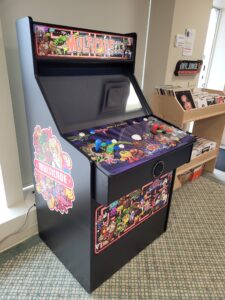 Counter top Arcade machine
Thousands of Games
20.5 Deep X 24″ Tall X 22″ Wide
$1,100.00 
PEDESTAL ARCADE MACHINE
THOUSANDS  OF YOUR FAVORITE GAMES
Can be hooked to your Projector or flat screen TV Via HDMI cord.
SOLD
 "3 Sided Cocktail slant top Model"
 $1,950.00
Thousands of your favorite games like pack-man -Donkey Kong and many more!
Our video games are custom-built for us!
we offer Multicades built to a commercial standard using quality reliable electronics, commercial-grade monitors and buttons, and sturdy (cabinet shop quality) cabinets. ( available with trackball). Handy outside mounted volume control and unlock able button assembly. LED marquee and glass over LCD monitor.
Contact store for details and availability.