Products – Used Equipment

Inventory changes nearly daily, keep checking back.
Beautiful Eight-Ball Deluxe (PENDING)


Postal Stamp Machine on pedestal  $225.00
This is absolutely beautiful condition machine, made to dispense books of stamps
Has a drop in coin mechanism. Perfect "Red White and Blue"
enamel finish on front panel.
(2) Seeburgs  LS-325 -or a- Mustang
$775.00 Each – your choice.
All three machines are in working order and come with records and matching title strips to start your collection.
Seeburg Home Unit $1,995.00
Plays (50) (12″)  33 1/3 RPM records programmable selection plays one entire side of any LP the sound is great.
Also has AUX in and Playback. Aux speaker outs – AM – FM Radio Tuner all encased in a rich dark mahogany cabinet with built in speakers.
Nice Rock- Ola Wallette $995.00
like new condition has paperwork and original cording.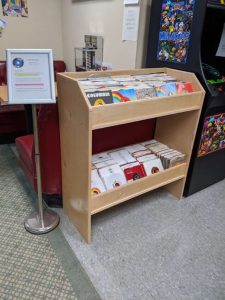 45 RPM records – checked for abrasions – cleaned & sleeved $2.50 Each
selling coin op equipment comparatively inexpensive here's why:
I want to keep the showroom fresh. I want my consignment people to have a closed sale in a timely matter.  I invite you to try equipment to inspect how it works.  I have been a part of the coin- operated equipment repair business since 1974 with dedication for this innovative equipment to survive. That fact is, coin-op manufacturers  stipulated a practical work life of just 24 months. Now, tens of thousands of units live on in homes for many decades past there practical expected work life.  If you are diligent about Keeping up with proper regular servicing, many machines continue to operate today.  I carefully go through machines. I do not intentionally sell problem machines.  It is not in my best interest to sell a problem machine off, I do not people to be unhappy. The fact is, just like any used mechanical machine (Just like a 50 year old car) it will someday fail. This is why I cannot "guaranty" what can easily be described as a mechanical artifact and the prices reflect this. Sales are ASIS – Final.